Art of Jaguar gallery professor Pinkus
Today's fresh and hot update features the art of Jaguar professor Pinkus comic with one horny college teacher as he has a nice fantasy about his neighbor's sexy and hot girlfriend. Well it all happens when this sexy babe does what she needs to do in the class, and the teacher gets a glimpse of her big juicy tits. And so, he just spaces out imagining just how good it would feel to sink his cock in that tight and wet pussy of hers. Of course he eventually drifts off in one superb day dream and this guy imagines this cute babe sucking and slurping on his big and rock hard cock. But dreams do come to an end.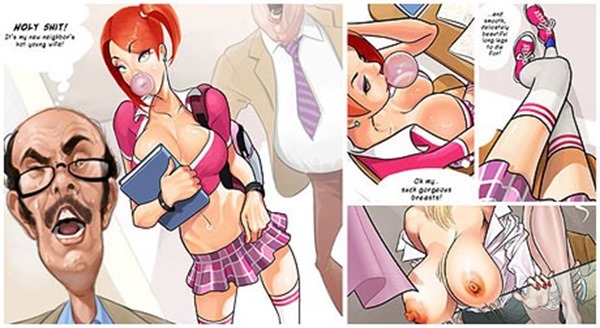 And his comes to an end when the bell rings and signals the end of his class. But this scene is not done yet, as this teacher bolts out of the class to fix his problem, since his sexual day dream has given him quite a big boner. So he goes to the nurse's office where his female fuck buddy waits. naturally she was a bit startled by his sudden appearance but she does offer up  her wet cunt to him to pound with his hard cock. So watch the sexy and hot blonde bend over and see her taking his dick balls deep in her pussy in one nice and hot doggie style fuck for this afternoon today. We hope that you'll enjoy it and we'll see you next week with more artofjaguar images!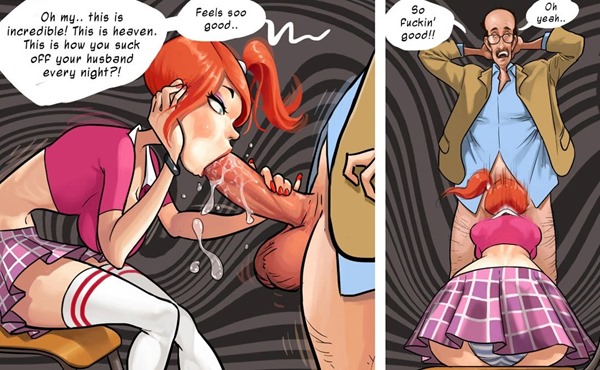 Watch this horny slut sucking professor's Pinkus big cock!