Art Of Jaguar – Professor Pinkus 05
There's more art of Jaguar to see today. You remember professor Pinkus and his hot red head of a student in university right? Well we get to see some more of them and it seems that our little kinky beauty wants to play around with the dude this afternoon. We're going to be checking them out as they have some kinky 1 on 1 fun for this issue and we can guarantee that it's going to be one unforgettable scene too. The busty red head with bright blue eyes does have a way with words when she wants to taunt guys as well and rest assured that she also put that to use in this nice little scene for today.
The scene starts off with our lovely red head as she starts to taunt mr Pinkus. She knows that she and her boyfriend can be heard clearly while having sex in their apartment and this teach is a neighbor of theirs. Well she tells him how she likes to use those juicy lips of hers to give her man the best blowjobs and you can bet that she's quite enticing while talking about that too. After she asks him if he'd want some special treatment from her as well, she unzips his pants and whips out his big cock. Take your time to watch this beauty as she sucks some fine cock from her teacher this afternoon and come by soon for more comics and we'll be seeing all of you then. Bye bye!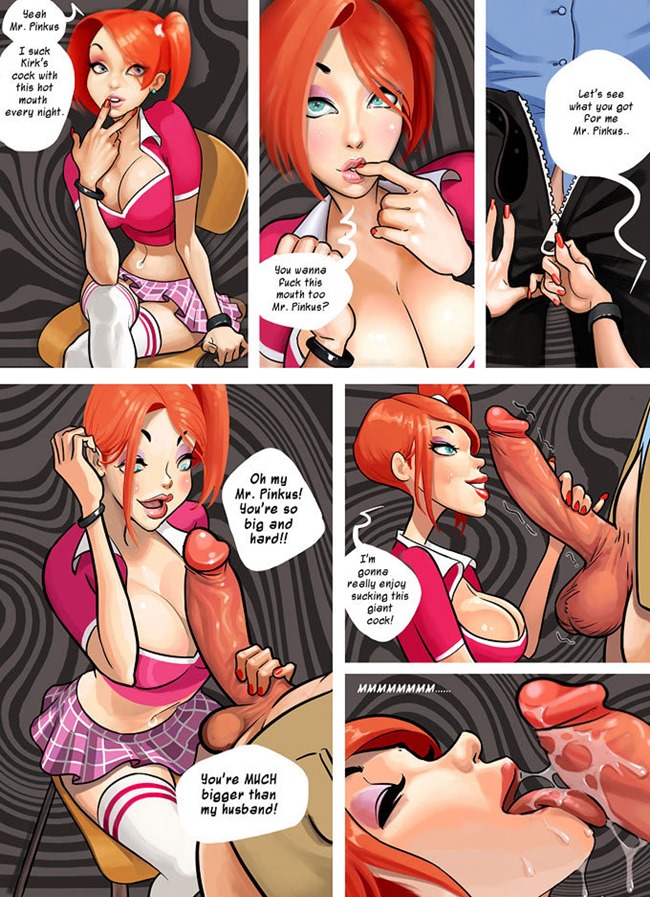 See professor Pinkus getting his cock sucked by a student!