Summer Job 05
Today art of Jaguar has a simply incredible update to reveal to you. You get to see the mighty fine and sexy miss E in some sensual action as she gets to show off her…ahem…"assets". This blonde MILF is desperate to do something about the beach side bar her husband runs and get it to be popular again. Well her husband is away of business for another long while, but there's nothing to worry about. This gorgeous blonde woman gets to have the help of two nerdy guys, Clyde and Rufus. They are hired for the summer while having a break from the university and they are more than happy to help out this artofjaguar cougar. So let's watch the action go down without delay!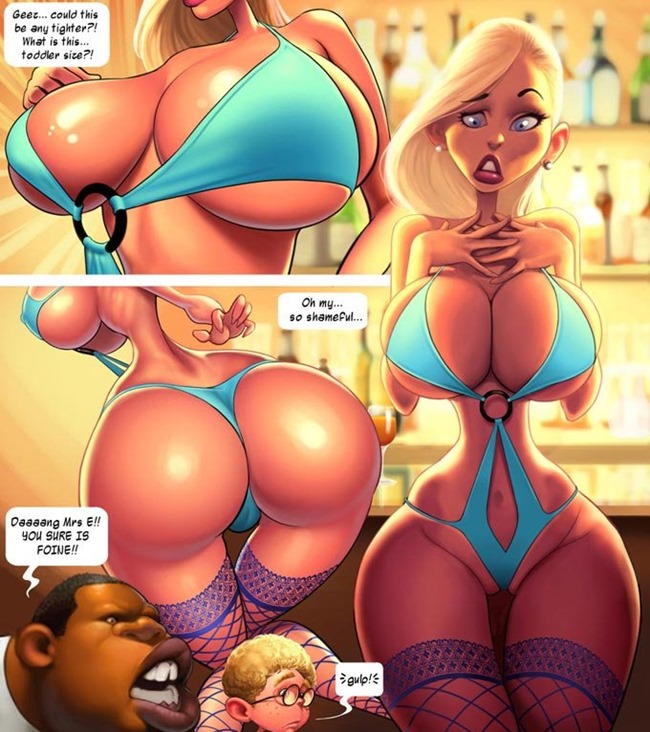 As this scene starts off, Rufus and Clyde suggest to the simply amazing blonde that perhaps she can use her womanly charm and sexy body to draw in new clients. To do that, she dons a superbly sexy outfit and even the two guys get taken by surprise about just how hot this woman looks in the skimpy swimsuit today. Be sure that she's going to be putting on a show for them as well and even though her face becomes red, she still feels pretty sexy while wearing this outfit. Check it out as well and do make sure to come back soon for more new and fresh scenes everyone. We'll be seeing you then. Bye bye for now and see you guys when we come back with more!
See these hot blonde showing off her impressive knockers!