Summer Job 07
Hi there guys, we come to you with some more art of Jaguar scenes. Today we have another issue of the Summer Job comic strip and we know that this one will surely impress you. You remember miss E and her two underlings from the past scenes right? well she's going to have to reward the two somehow, but unknown to her, she's going to be doing it in a very very sexy way today. Anyway, the guys suggest that she could probably pull the top a bit lower to show off some more cleavage. She wants to do anything that she can to be sure to attract attention the next day so every idea needs to be explored without holding back. So let's see this one go down shall we?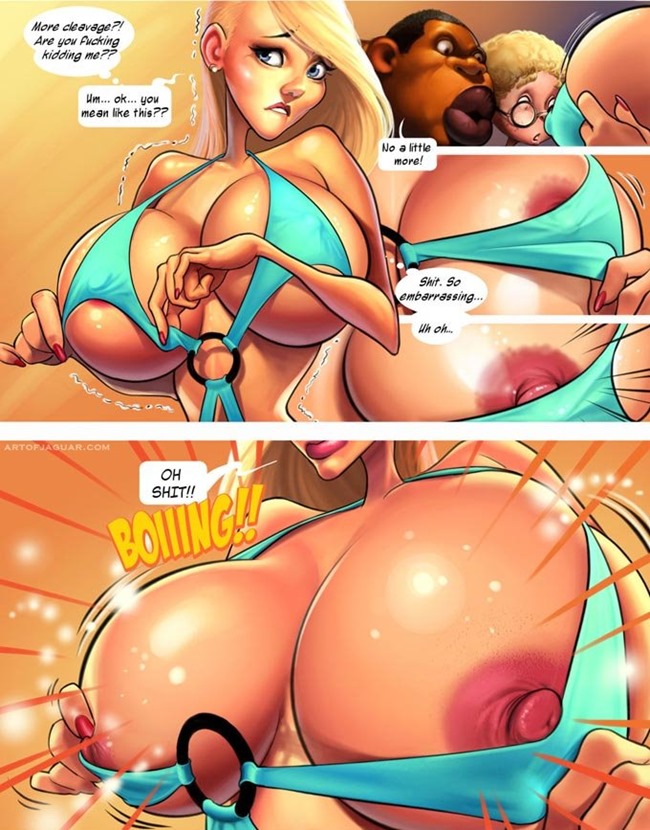 Well, since she was wearing such a small bikini you can probably imagine what ended up happening. The top part of the bikini are more of less a pair of wide elastic straps to cover those majestic round tits. As she kept fiddling around with them, they pop put of the way, and Rufus and Clyde?…Well they get their just reward for their help today. They get a full frontal view of miss E's simply incredible and big round tits as she unintentionally flashes them. Either way, we bet you'll have the same reaction as well so take your time with it. We'll be back again with a new update next week and more sexy ladies getting down and dirty!
Take a look at this hot chick flashing her huge juggs!