Summer Job
Last updated: February 17th, 2017
Welcome to more comics featuring the art of jaguar as usual. We're bringing you a fresh new one to check out this week and you can bet that it's as juicy and sensual as any other comic strip around this place too. In this new one you get to watch a sexy blonde mature babe that at the tips of two college guys, decided to try out a new set of clothing to make her cocktail bar more…attractive. And naturally that was by making herself more attractive too. Anyway, let's get to take our time and check out this luscious blonde in this artofjaguar scene as she gets to show off the said new outfit to her little helpers today and expose that amazingly hot and sexy body of hers too while she's at it!
As the jaguar comics scene gets to start off, the blonde makes her entry. It was just her and the two guys around the bar now as it was late at night and the place was closed so she had all the privacy she needed. When she shows up the guys are fist bumping one another as she looked smoking hot as they'd figure she would and the babe seems a little bit shy about the whole thing. Well it's fine, as the two guys are there to cheer her on in a special way as well. Anyway, check out the whole issue today and have fun with it, as there will be more to check out next week too. All you need to do is just drop by and check it out without delay!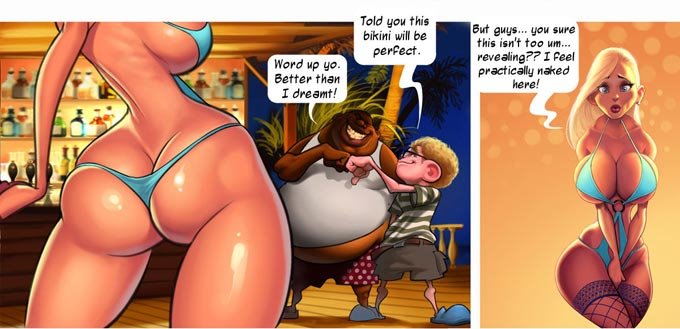 Take a look at this hot blonde showing off her fine ass!